WSM Collaborating with Cutting Ball Theatre in 2015
Our shared thread is Justice and its opposite—InJustice.
Examining   InJustice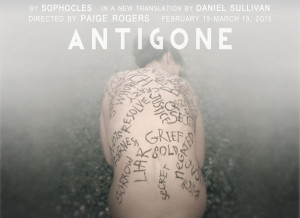 What does our San Francisco business immigration law firm have in common with a San Francisco experimental theatre? Not just San Francisco. In our day-to-day business of working with immigrants and their employers, we frequently encounter a Kafkaesque system riddled with unfair treatment, ridiculous government rules, regulations and practices.  The notion of due process is frequently trampled by our government officials.  As immigration advocates we recently faced the appalling reality that our government is on a large scale imprisoning women and children refugees fleeing violence and abuse in their home countries.   In a terribly broken immigration system, we are constantly forced to deal with justice and injustice.
The Cutting Ball Theatre is tackling justice through drama, both in two new plays and in the classic Greek "Antigone" which will use a fresh and provocative new translation.  The theme of Antigone—the rights of the individual versus the rights of the government/society and the tragic repercussions of laws that should not exist or be enforced, remains very current.  As a high school student I was fascinated by the study of Ancient Greek and Latin. Excavating the universal themes from the text was worth the effort.  I miss the thrill in finding ancient plays and essays so real and insightful.
As a society we are grappling with the individual's right to privacy and the government's collection of phone data from all US citizens in its effort to ward off terrorist attacks.  And returning to the imprisoned Central American refugees, we should be truly concerned with a mother's right to protect herself and her children by escaping danger running up against the government imprisoning them for prolonged periods for apparently politically motivated reasons.
WSM is excited to collaborate with the Cutting Ball Theatre as it explores Justice and InJustice.  We come at the issues with different tools and perspectives, but we share the goal of moving our community to think, act, and possibly improve the rules that govern us.   This is a great opportunity to reach out to our networks and communities in a different and fun way.  
News Alert Signup
"WSM is quick to respond to us and our employees' immigration needs."